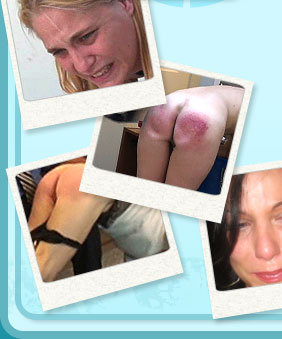 Your Search Returned
1085
Results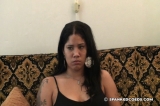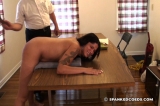 Jenna: Paddled for not Being Obediant to her Girlfriend
The Headmaster hears that Jenna is not be as obedient to her girlfriend as he has instructed her to be. He lectures her on being obedient in all circumstances in her life, then orders her to strip, bend over the table and he paddles her hard.
Updated: Fri. Sep. 09, 2022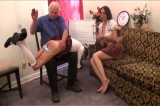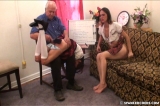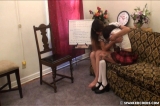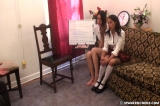 Daija & Amber: Punished Together - Hand and Hairbrush
The Headmaster has reached his limit with Daija and Amber's inability to manage their personal lives. When he is forced to deal with them on his day off, he decides a very serious lecture and punishment is in order. The two troublesome girls are punished together OTK with hand and hairbrush.
Updated: Wed. Sep. 07, 2022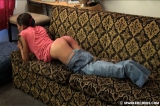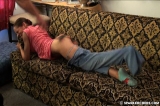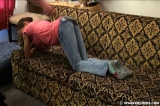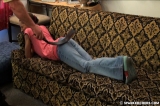 Daija: Strap that Ass!
Daija is laid out on the couch for a painful strapping. Her punishment begins over her pants and finishes on her bare bottom.
Updated: Mon. Sep. 05, 2022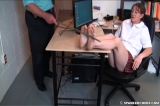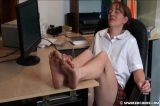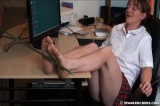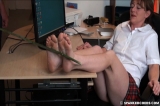 Angelina: Foot Caning
The Headmasters has honored Angelina with the with an opportunity to handle some secretarial work at the Academy. Unfortunately it is quickly revealed that she lied about her secretarial training. The Headmaster orders Angelina to put her bare feet up on the table and he punishes them with a thick rattan cane. A very painful punishment.
Updated: Fri. Sep. 02, 2022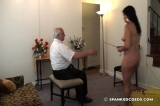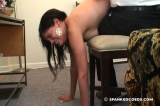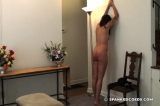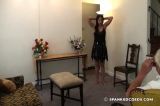 Jenna: Paddled for Staying Out All Night
When troublesome young Jenna arrives home in her party dress after being out all night, the Headmaster takes a few minutes from his busy schedule to offer some gentle correction to the wayward lass OTK with a wooden paddle.
Updated: Wed. Aug. 31, 2022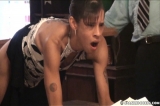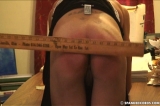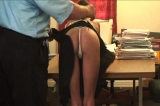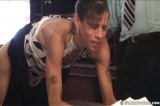 Daija: Show Me the Money!
When Daija gets sassy with the Headmaster about her weekly pay, he wastes no time in reminder her who is in charge. Daija is bent over the table. Her bottom is bared. She is then given a long spanking with the Headmaster's heavy rule.
Updated: Mon. Aug. 29, 2022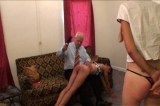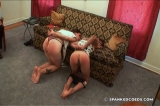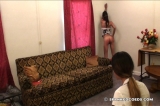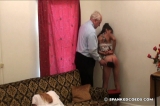 Daija: OTK Hair Brush
The Headmaster orders Amber to drag Daija in for her punishment. With Amber watching, he orders Daija to drop her pants and panties and go over his knee. He gives her a hard fast spanking with a hair brush. The Headmaster finishes up by spanking both girls.
Updated: Fri. Aug. 26, 2022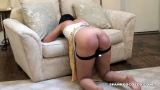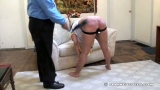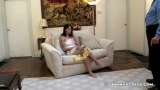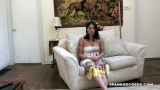 Jenna Punished for Refusing to Get a Job
Jenna is constantly asking the Headmaster for money, yet refuses to seek a job on her own. To help her develop a proper work ethic the Headmaster gives her a long hard punishment. He starts with a Plastic paddle and finishes with a heavy leather strap.
Updated: Wed. Aug. 24, 2022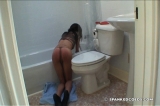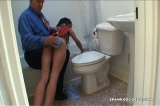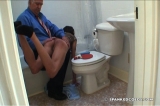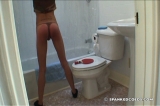 Daija: Bathroom Spanking
The Headmaster interrupts Daija's bathroom cleaning duties to give her a hard OTK spanking with paddle and hand. The headmaster wets Daija's skin with a cleaning sponge to give the punishment some extra 'sting'.
Updated: Mon. Aug. 22, 2022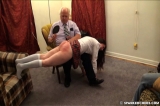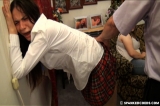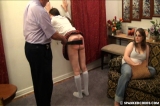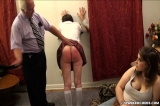 Amber: Strap and Paddle
Amber is supposed to be working on her chores. Instead, she is chatting with Halee. As punishment, and as an example to new girl Halee, the Headmaster gives her a sever and painful punishment with strap and paddle.
Updated: Fri. Aug. 19, 2022
© Alpine Entertainment Group Inc. 2009